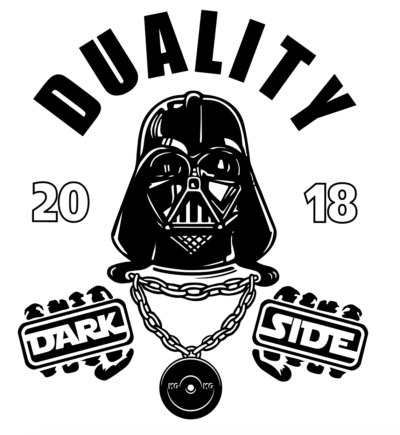 HELLO POTENTIAL SPONSORS!
Thank you for showing interest in being a part of our 6th Duality competition here in San Antonio, TX. We are really excited about this year's event and wanted to give you information about being a part of it!
If you already know you want to be a part of this event and do not need to read further, please email miranda@trinitycompetitions.com and our Director of Sponsorships, Miranda Paredes will get in touch with you shortly to set up a phone call!

ABOUT TRINITY COMPETITIONS
We have been in existence since 2013 and have hosted almost 20 on site (live events) with an average attendance of 325 athletes per event. We take a lot of pride in hosting professional, well run competitions for the community. Our team is made up of a core group of leaders and judges/volunteers for every event. We are deeply honored and humbled to serve the community with our events.
OUR GOAL WITH SPONSORSHIPS
Our main focus for our sponsorships is to create the best possible experience for you, the athletes, the volunteers, and the spectators. We provide a platform for you to generate more brand awareness and ultimately accomplish your main goal as a business. Your main goal may be driving revenue, growing a email list, leading your audience to your social channels, or perhaps another goal. Whatever that goal is, we are here to serve you in reaching that goal.
OUR SPONSORSHIP PROCESS
Once you reach out to Miranda (miranda@trinitycompetitions.com), she will send you a form to fill out and you will schedule a call with her to go over your goals for this event.
You will speak to Miranda and she will explain anything you need to know and answer any questions you may have
You will choose a sponsorship level and reserve your spot with a $50.00 non-refundable deposit that will be credited toward your total payment.
We will start taking sponsorship payments July 1st
We do take payment plans (3 separate payments that must be paid by September 1st). No extra charge for payment plans!
Once you are secured
DUALITY 2018: EVENT BASICS
Our competition begins Friday night, September 28th and ends Sunday afternoon the 30th.
The competition is for 2 person teams in M/M, F/F, and Co-Ed Categories
We host Kids, Super Scaled, Scaled, Masters, Intermediate, and Rx Divisions
Friday night is for Rx only
Saturday is for Rx, Intermediate, and Scaled
Sunday is for Kids, Super Scaled, and Masters
Sponsors/Vendors will set up Friday the 28th NO LATER THAN 4pm
The main days are Saturday and Sunday as Friday night is just for the Rx teams
DUALITY ATTENDANCE
Last year we had over 525 athletes and over 1,000 spectators throughout the weekend. We expect the same or more this year!
We typically have a handful of CrossFit Regional and Games athletes competing with us
Our leadership team, judge crew and volunteer crew team totals roughly 60+ people
We serve food and beverages all weekend so people typically do not leave the event until it is over for the day
SOCIAL MEDIA PRESENCE
We have over 5,800 followers on Facebook
We have over 3,500 followers on Instagram

WE POST DAILY AND ARE VERY RESPONSIVE ON OUR SOCIAL CHANNELS!

Our email database for active CrossFitters totals more than 3,000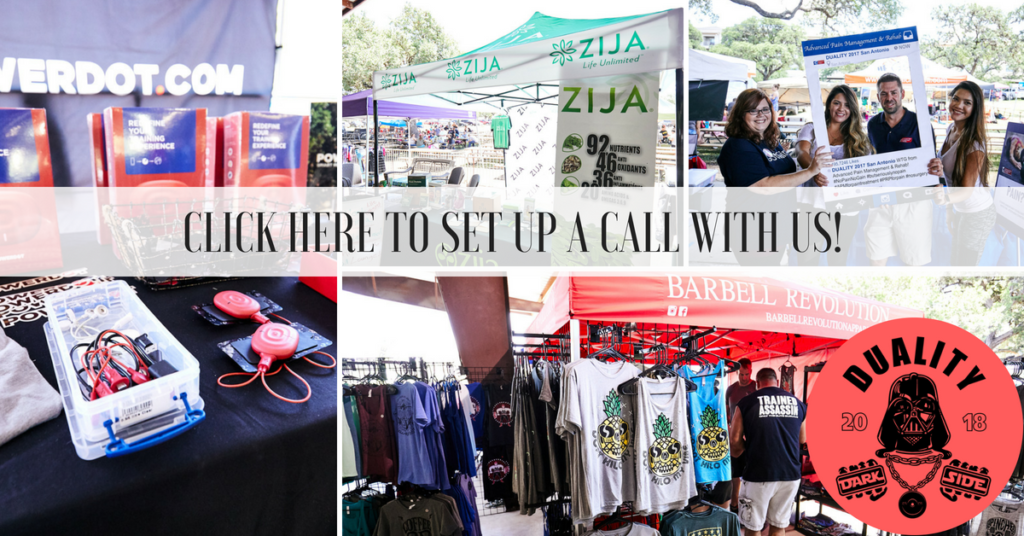 SPONSORSHIP OPTIONS
We make it simple! You have 2 options:
OUTSIDE THE PAVILION: $450.00 for the weekend (15 available)

We ask that you also provide $75.00 of prizes for the competition winners (retail price)
(Grassy area leading up to the entrance where all spectators must walk by to get in and out of the venue)
10×10 Booth Space
2 Separate Social Media Highlights
Logo Placement on our Sponsor Banner
You must bring:

Tent/Canopy
Table/chairs
Wifi Hotspot
Extension Power Chord if needed

You receive:

3 total vendor passes for the weekend
(up to) 3 total meals per day with a bottled water with each meal

UNDERNEATH THE PAVILION: $750.00 for the weekend (10 available)

We ask that you also provide $75.00 of prizes for the competition winners (retail price)
Covered pavilion where 3 of the workouts will take place (See photo below)
(Grassy area leading up to the entrance where all spectators must walk by to get in and out of the venue)
10×10 Booth Space ($150 to upgrade to 10×15 space)
4 Separate Social Media Highlights
Workout sponsorship
Website article about your company/brand pushed out to entire email list
Premier Logo Placement on our Sponsor Banner
You must bring:

Tent/Canopy
Table/chairs
Wifi Hotspot
Extension Power Chord if needed

You also receive:

4 total vendor passes for the weekend
(up to) 4 total meals per day with a bottled water/energy drink with each meal

Please note there are NO LOGOS on the competition shirts for any sponsor

CUSTOM UPGRADES
If there is anything else you would like to discuss, we do custom upgrades for sponsors. We will be able to speak about these upgrades over the phone or in person (if you are in San Antonio). Upgrades can include:
Title Sponsorship
Landing page and e-commerce strategies
Marketing and social media audits and coaching sessions
Online marketing certification courses
Facebook/IG Paid Advertising coaching sessions