Duality 2018
FRIDAY, 9/28 THROUGH SUNDAY 9/30
SAN ANTONIO SHRINE PAVILION (CLICK FOR MAP)
901 North Loop 1604 East
San Antonio, TX 78232
RX WORKOUTS HERE
INTERMEDIATE WORKOUTS HERE
SCALED WORKOUTS HERE
MASTERS 40+ WORKOUTS HERE
SUPER SCALED WORKOUTS HERE 
KIDS WORKOUTS HERE
HEAT AND LANE ASSIGNMENTS BELOW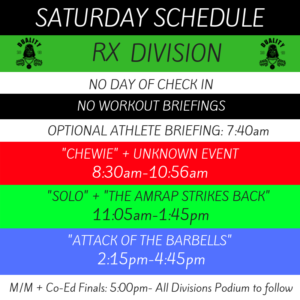 RX HEAT AND LANE ASSIGNMENTS
FRIDAY NIGHT HEAT AND LANE ASSIGNMENTS (RX ONLY)
SATURDAY RX EVENT 1 (CHEWIE) HEAT AND LANE ASSIGNMENTS
SATURDAY RX EVENTS 2 AND 3 HEAT AND LANE ASSIGNMENTS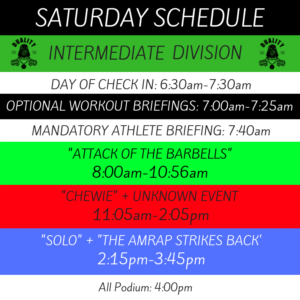 INTERMEDIATE HEAT AND LANE ASSIGNMENTS
SATURDAY INTERMEDIATE EVENTS 1 AND 3 HEAT AND LANE ASSIGNMENTS
SATURDAY EVENT 2 (CHEWIE) HEAT AND LANE ASSIGNMENTS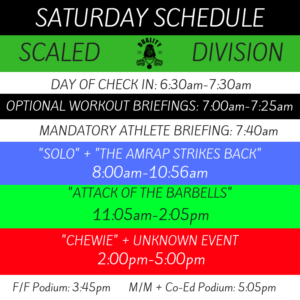 SCALED HEAT AND LANE ASSIGNMENTS
SATURDAY SCALED EVENTS 1 AND 2 HEAT AND LANE ASSIGNMENTS
SATURDAY SCALED EVENT 3 (CHEWIE) HEAT AND LANE ASSIGNMENTS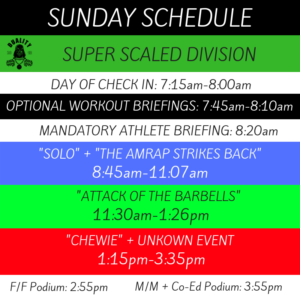 SUPER SCALED HEAT AND LANE ASSIGNMENTS
SUNDAY SUPER SCALED EVENTS 1 AND 2 HEAT AND LANE ASSIGNMENTS
SUNDAY SUPER SCALED EVENT 3 (CHEWIE) HEAT AND LANE ASSIGNMENTS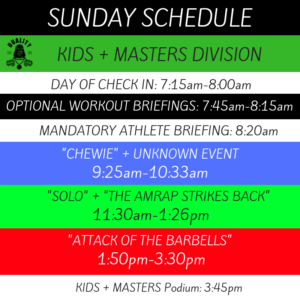 MASTERS AND KIDS HEAT AND LANE ASSIGNMENTS
SUNDAY KIDS/MASTERS EVENTS 1 AND 2 HEAT AND LANE ASSIGNMENTS
SUNDAY KIDS/MASTERS EVENTS EVENT 3 (CHEWIE) HEAT AND LANE ASSIGNMENTS
---
ATHLETE CHECK IN
ALL ATHLETES may check in:
Thursday, September 27th from 11am to 4pm at Doll House Med Spa (1205 N. Loop 1604 West Suite 225 78258)
Thursday, September 27th from 5pm to 8pm at Bedlam CrossFit (15384 Tradesman #101, San Antonio, TX 78249)
Friday, September 29th from Noon until 6:15pm at The San Antonio Shrine Pavilion
Saturday, September 30th from 6:30am until 7:30am at The San Antonio Shrine Pavilion
SUNDAY ATHLETES WHO MISS ANY OF THESE TIMES WILL STILL REGISTER SUNDAY MORNING BEFORE THE COMPETITION.
ATHLETES WILL RECEIVE THEIR TEAM ATHLETE BAG, WRISTBANDS, SCORECARDS, AND T-SHIRTS.
SUNDAY ATHLETES WISHING TO WATCH SATURDAY'S EVENTS MUST CHECK IN BEFOREHAND TO RECEIVE WRISTBAND FOR SATURDAY ACCESS. (If they do not pick up athlete bags during the above times, they must pay on to come watch Saturday)
WEEKEND SCHEDULE
The Weekend Schedule Is:
FRIDAY NIGHT (5:30PM-8:45PM): ALL Rx Teams *NEW CHANGE
SATURDAY DAY: ALL Rx, ALL Intermediate, and ALL SCALED
SUNDAY: M/M Super Scaled and Masters, Co-Ed Super Scaled, F/F Super Scaled, and our KIDS DIVISION!
*NIGHT OPS IS NO LONGER! We are integrating all Co-Ed teams to Saturday during the day
---
SPECTATOR TICKETS AT THE DOOR! $20 on Saturday (for whole weekend) and $20 on Sunday! We take cash and credit.
KIDS 12 and Under are FREE!
---
Not enough info? Got more questions? We would love to help!
Email us HERE!
---
SCHEDULE + HEAT AND LANE ASSIGNMENTS
WORKOUTS
RX EVENTS
INTERMEDIATE Events
SCALED Events
SPECTATOR AND VENUE INFO
Spectators over the age of 15 will pay $20.00 and over the age of 12 will pay $10.00 to enter the pavilion for the entire weekend, regardless of how many separate events they will attend. Spectators and athletes may bring their own food but no glass bottles. Parking is FREE.
ATHLETES DO NOT HAVE TO PAY TO SPECTATE IF THEY HAVE THEIR WRISTBAND
We accept cash and credit card at the door.
There will be food and beverage served throughout the weekend. Our food menu usually consists of:
Brisket, Fajitas, a complex carbohydrate (like sweet potatoes), pastries, water, and FitAid. We do not serve alcohol.
The San Antonio Shrine Pavilion is a 12,000 square foot pavilion that will cover the entire competition floor and all of the vendors.
Please be aware of the following rules:
No large animals allowed in the pavilion
No glass bottles on the premises
Please dispose of your own trash
If you have a camera/video recording device, please do not crowd an area or blatantly obstruct anyone's view
Spectators may not enter the competition floor
LOCAL ACCOMMODATIONS
There are plenty of hotels in the area!
Please click HERE for map of hotels in the area or use: