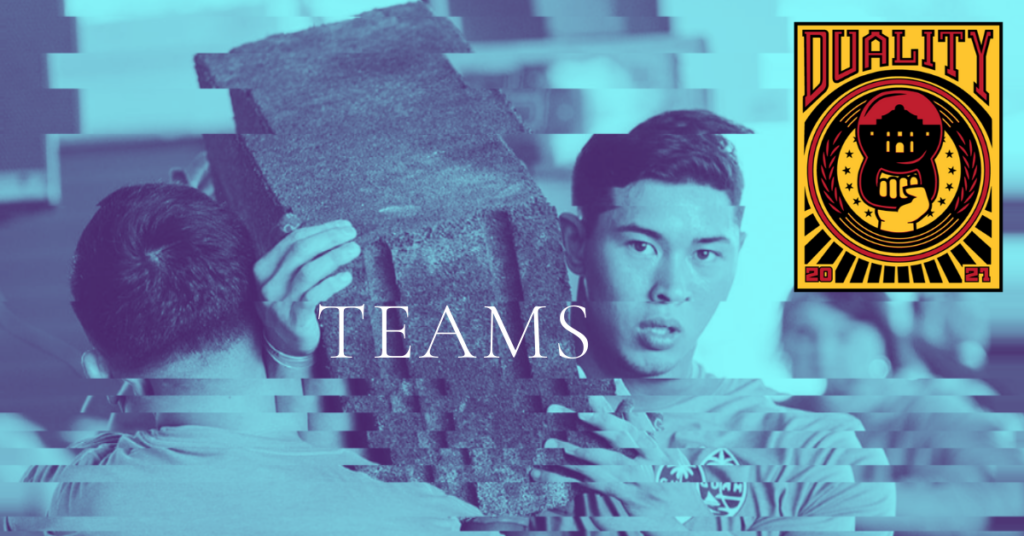 THE TEAM EVENT IS SOLD OUT

REGISTRATION IS OPEN! CLICK HERE TO REGISTER!
COMPETE IN SATX 10/1-10/2
The Biggest Partner and Individual Functional Fitness Competition in Texas!

Male, Female, and Co-Ed Teams
FRIDAY, 10/1/2021 THROUGH SATURDAY 10/2/2021

TEAM RX and INTERMEDIATE COMPETES
FRIDAY NIGHT AND SATURDAY AFTERNOON.

ALL OTHER TEAMS AND INDIVIDUALS COMPETE SATURDAY ONLY
IS YOUR DIVISION SOLD OUT??? CLICK HERE FOR THE WAITLIST!
Got questions? Email us at info@trinitycompetitions.com

SAN ANTONIO SHRINE PAVILION (CLICK FOR MAP)
901 North Loop 1604 West
San Antonio, TX 78232
Please note that if you are looking to compete as a team in Super Scaled, Scaled, Intermediate, or Rx, your team will now complete 4 online events to place you in your respective division. This allows the appropriate team to be registered for their division.
REGISTER HERE JUNE 10TH AT 8PM
STEP 1:
OPEN REGISTRATION BEGINS JUNE 10th
Teams will register ($280/team) on June 10th until the event is sold out. This year, we are limiting the number of teams to no more than 245. Teams will not choose their divisions but will compete in an online competition September 2nd – September 16th.
SOLD OUT??? CLICK HERE FOR THE WAITLIST!
STEP 2:
TEAM SEPARATOR WORKOUTS ARE ANNOUNCED
ON SEPTEMBER 2nd
Each athlete on a team will complete 4 workouts as an individual. Both team members will complete the 4 events and all 8 scores will be used to rank the teams. Videos will be used on 2 of the 4 workouts to ensure fairness. Teams will have 2 weeks to complete the 4 events and submit scores/videos on September 16th at 8pm CST.
These workouts are designed to separate out the Super Scaled (beginning competitors) from the Rx competitors. The workouts will test strength, aerobic capacity, and gymnastics ability. At the end of these events, the Super Scaled and Scaled teams will be appropriately placed into the correct divisions along with the more advanced Intermediate and Rx teams.
From September 16th through September 19th, the team scores will be verified and then on September 20th the final divisions will be announced. The divisions for males and females will be Super Scaled, Scaled, Intermediate, and Rx. The number of teams in each division will be determined by how many total registrations and will be announced before the Separator workouts are announced.
STEP 3:
LIVE EVENT TAKES PLACE
OCTOBER 1st – OCTOBER 2nd
The live event workouts will be released September 17th giving all teams and individuals over 2 weeks to prepare.
The qualifying Intermediate and Rx teams will compete Friday October 1st at The San Antonio Shrine in 1 or 2 events. All other teams and all other individual athletes will compete only on Saturday. The workout(s) on Friday are not released until the athletes arrive at the venue that evening during the athlete briefing.
Team Super Scaled will compete on Saturday morning from approximately 8am to 2:30pm. *Individuals, Teens, and Kids will also compete at this time.
Team Scaled, Intermediate, and Rx will compete on Saturday afternoon from approximately 2:30pm to 8:30pm.
REGISTER HERE JUNE 10TH AT 8PM
Got questions? Email us at info@trinitycompetitions.com