CLICK HERE FOR INDIVIDUAL LEADERBOARD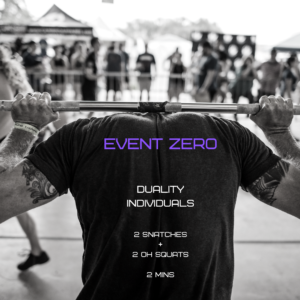 "EVENT ZERO": Duality 2019 Individual Online Event
This event is due on 9/16 by 9pm CST. This event is the first event for Duality 2019 for Individuals except for the kids division and will be the first scored event on the leaderboard.
SUBMIT SCORE HERE by 9/16 at 9pm CST
2 Minutes
2 Snatches + 2 Overhead Squats
SCORING
Total weight on the bar will be scored. Athletes will use 45's, 25's, 10's, 5's, and 2.5's only. No fractional plates and no kilogram plates. ONLY ONE WEIGHT WILL BE SCORED. ATHLETES CANNOT CHANGE WEIGHT during the lifts.
WORKOUT DESCRIPTION
(After completing the introductions described in the instructions at the bottom of this document) At 3, 2, 1, GO the athlete will have 2 minutes to complete 2 Snatches and 2 Overhead Squats for a total of 4 lifts.
The barbell will begin from the ground. Athletes cannot use the 2nd snatch as the first OH Squat.
The athletes may drop the bar after each rep. The reps do not have to be touch and go. A clean may be used to get into position for the OH squats.
MOVEMENT STANDARDS
Snatch
The athlete will take the barbell from the ground to overhead in one continuous motion. 

A full, power, or split snatch may be used.

Hang snatches are not allowed.
OH Squat
The movement begins with the barbell overhead, arms fully locked out, and bar over the hips.

The athlete will squat while holding the barbell overhead until they reach below parallel, hip crease falling below knee.

They will stand up and achieve the same starting position.

Snatch balance is not allowed.
VIDEO REQUIREMENTS
Workouts must be uploaded to YouTube or Vimeo. We will not accept Facebook, Facebook Live, or any other social platform. We are not responsible for teaching or instructing you how to upload a video nor are we responsible for slow uploading, YouTube crashing the day you want to upload, etc. Please do not ask us how to upload a video and make it public or share the link.
Athletes will be required to follow the instructions on each workout. We must be able to know that you are the athlete in the video, the weight is correct, the timer is in the shot, etc. Please please follow the rules stated in the workout description and do not make us enforce broken rules.
The scores submitted will be reviewed by the Trinity Competitions team for accuracy and scoring adjustments will be made if needed. We will reach out to the teams to let them know their scoring adjustments when necessary.
CLICK HERE FOR WORKOUT DESCRIPTION/STANDARDS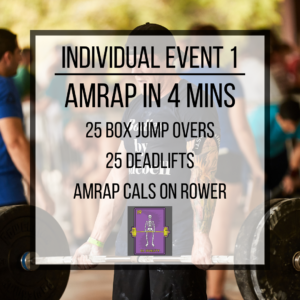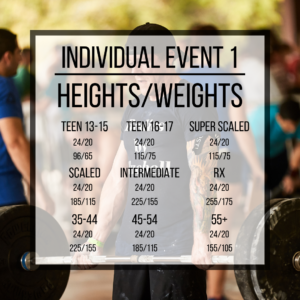 EVENT 2: "DIEZ CUATRO"
10 Minute AMRAP
40 Hang Clean to Overhead (Axle Bar)
30 Heavy Rope Skips
20 Dumbbell Overhead Alternating Lunges
10 D-Ball Over the Shoulder Throws
WEIGHTS:
ALL INDIVIDUAL DIVISIONS
40 Hang Clean to Overhead (Axle Bar): 40lbs Males/30lbs Females
30 Heavy Rope Skips
20 Dumbbell Overhead Alternating Lunges: 30lbs Males/20lbs Females
SUPER SCALED, TEEN, and MASTERS 50+ and up
10 D-Ball Over the Shoulder Throws: 60lbs Males/30lbs Females
MASTERS 35+ through MASTERS 45+
10 D-Ball Over the Shoulder Throws: 100lbs Males/60lbs Females
SCALED, INTERMEDIATE, and RX
10 D-Ball Over the Shoulder Throws: 100lbs Males/60lbs Females
EVENT 3
"CUEVA DEL DOLOR"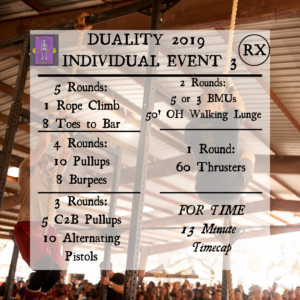 PLEASE CLICK HERE FOR SUPER SCALED, SCALED, INTERMEDIATE, AND RX DIVISION STANDARDS
CLICK HERE FOR THE THE FLOOR LAYOUT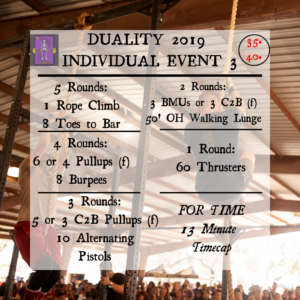 PLEASE CLICK HERE FOR ALL TEENS AND MASTERS DIVISION STANDARDS
CLICK HERE FOR THE THE FLOOR LAYOUT
EVENT 4: "Y TU BRUTE"