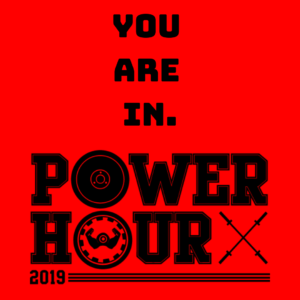 Welcome to Power Hour 2019!
You and your team are in.
A few things to note and prepare for:
Your team fee is non refundable but you can switch athletes before the event at any time.
You may also give or sell your spot to another team/athlete if you would like.
You may switch divisions up to 10 days before the event if you would like.
All workouts will be announced by May 1st at 8pm, some will be announced early April!
By April 15th, we will announce the 2019 T-Shirt design. It is an optional purchase for you and the price will be only $18.00 and we will ship it to the gym where you are competing and you can pick it up the day of the event!
Prizes for all divisions will be announced early May so hang tight!
Please email us at info@trinitycompetitions.com if you have any questions in the meantime!
Workouts from last year are HERE. Please scroll down and you will see the section for the workouts from 2018!