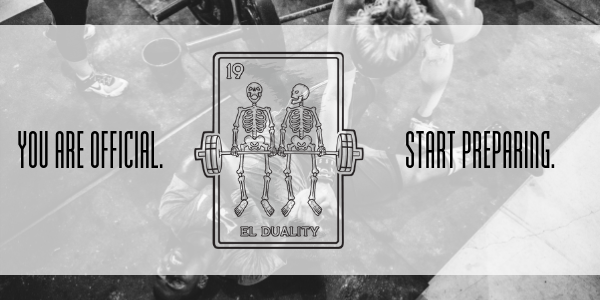 Welcome to Duality, 2019. You are officially registered.
You will receive an email within the next few days from Trinity Competitions giving you some more information about the event and what to expect.
PLEASE RSVP ON FACEBOOK NOW: https://www.facebook.com/events/336757317037080/
Please know if you signed up for the wrong division or need to make changes, you will need to contact us at info@trinitycompetitions.com and we will get back to you as soon as possible. If you want to switch divisions, we will do our best to make that happen but if the division you want to move to is sold out, we will not be able to switch you and the normal refund rules apply.
If you are registered as a team in the Scaled, Intermediate, or Rx Divisions, you will participate in "La Verdad" from August 1st-31st. Your team will have 4 workouts to complete in August. Your team will do the events as individuals so you do not have to complete these workouts together, at the same time, or in the same place. You will submit your own score and so will your partner.
If you are competing in any other division (Super Scaled as well as ALL INDIVIDUAL Divisions), you will not have to complete these workouts. If you are seeing this screen, it most likely means you registered and you are in no matter what.
ALL KIDS WORKOUTS RELEASED JULY 1ST
ALL "LA VERDAD" WORKOUTS RELEASE 8/1
FIRST TEAM WORKOUT RELEASED 8/12
FIRST INDIVIDUAL WORKOUT RELEASED 8/15
SECOND AND THIRD TEAM AND INDIVIDUAL WORKOUTS RELEASED END OF AUGUST
FINAL SCALED, INTERMEDIATE, AND RX TEAMS ANNOUNCED 9/9
FINAL TEAM AND INDIVIDUAL WORKOUTS RELEASED MID SEPTEMBER