DUALITY 2016 INFORMATION PAGE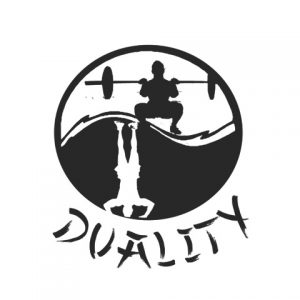 Saturday and Sunday, August 20-21, 2016
901 North Loop 1604 West 78258
---
BE A PART OF THE EVENT!
---
TIMELINES FOR EACH COMPETITION
---
---
T-SHIRT/TEAM NAME LIST
(To make a change to your t-shirt order, please email info@trinitycompetitions.com BEFORE 7/20)
---
SPECTATOR TICKETS/PARKING
$20.00 for the entire weekend (Access to 3 separate competitions)
$10.00 for children under 16
FREE for children under the age of 12
PARKING IS FREE!
If you are competing throughout the weekend, you will not have to pay a spectator ticket if you pick up your wristbands/t-shirts on Friday from 2-8pm at the venue OR SATURDAY from 5-7pm at the venue.
*Cash or credit is accepted at the door. We do not sell online tickets in advance.
---
FOOD SERVED ALL WEEKEND!
We partner with BasiC Ministries, here in San Antonio to cook food all weekend. We serve:
Brisket and Fajitas
1 or 2 Carbohydrate sides (i.e. sweet potato)
Cold Water, FitAid
Fresh Fruit
We accept cash/credit cards at the point of sale
---
ATHLETES/SPECTATORS: WHAT TO BRING
The venue is a large covered pavilion. The warm up area and competition are held underneath the pavilion, in the shade. We will have plenty of portable restrooms for all athletes/spectators.
Athletes and spectators are encouraged to bring:
Canopy Tents to sit underneath
Folding chairs/hammocks
Blankets/Pillows/Yoga Mats to sit on
Coolers with food/drinks are allowed!
Trash bags to clean up your own mess! 😉
Small animals are allowed but only held in arms while under the pavilion
There are no "Seating" or bleachers for spectators to watch the event. It is standing room only.
ATHLETES/SPECTATORS: WHAT NOT TO BRING
Glass Bottles
Large pets on ground underneath pavilion.
---
HOTEL INFO
There are plenty of hotels in the area!
Please click HERE for map of hotels in the area or use: