POWER HOUR 2019
Compete against teams throughout Texas and Ohio! The links below are live and ready on Thursday, March 28th at 8pm CST.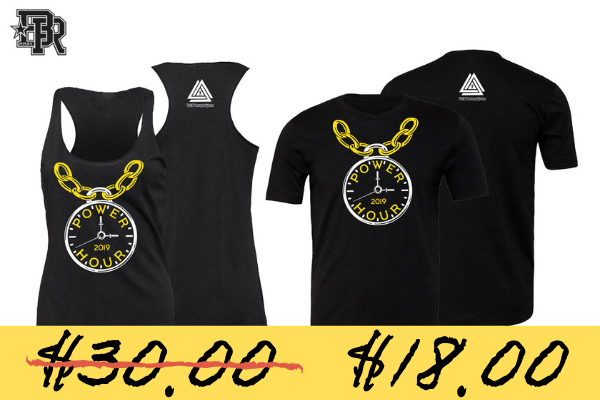 CLICK ON LINKS BELOW TO REGISTER:
AKP CrossFit (Huber Heights, OH)
CrossFit MisFits (Waco, TX)
Unicus Athletics (Dallas/Argyle, TX)
Streamline CrossFit (Austin/Cedar Park, TX)
UpReach CrossFit (Austin/Cedar Park, TX)
The Tribe/3F CrossFit (San Antonio, TX)
CrossFit Mettle (San Antonio, TX)
CrossFit South Belt (Pasadena, TX)
CrossFit Snyder (Snyder, TX)
CrossFit New Force (McAllen, TX)
Contender CrossFit (Corpus Christi, TX)
SPX Fitness (Laredo, TX)
Same gender teams of 4 will have 1 Hour to complete 12 Scored Workouts. You and your team will control the strategy. Team price is $170.00 total or $42.50/person! T-Shirts are not included but can be purchased for $18.00.
There are 4 divisions to choose from:
Super Scaled
Scaled
Masters 40+
Rx
There will be 4 "Strength" Events.
There will be 4 "AMRAP" Events.
There will be 4 "For Time" Events.
Not all athletes will compete in every event. You will be given all of the workouts in advance and your team choose the order of your workouts.
Your team may sign up for any time slot available. We are not separating out heat times by division. This will take place on a first come, first served basis.
Questions? Please email info@trinitycompetitions.com
WORKOUTS
OFFICIAL FORMAT AND RULES
Please CLICK HERE to read about the official format of the event.
Please CLICK HERE to read Athlete Details
SCORECARDS
HEAT AND LANE ASSIGNMENTS
Equipment Used
Each station will be 10 feet wide x 25 feet long. Each station will have ONE 6 foot section PLUS ONE 4 foot section of a pull-up rig. They may also use one pull-up bar inside the rig.
All equipment will be placed inside this station and cannot be moved outside the station at any time for any reason. The teams must keep all of their own equipment inside their station as well.
The Following Equipment Will Be Provided at Each Station To All Teams:
1 Barbell (Gender Specific)
2 Pairs of 45's
2 Pairs of 25's and 10's
1 Pair of 5's and 2.5's
1 Pairs of Collars
Pull-Up Rig (6 foot + 4 foot sections)
Rower
35lb, 53lb, 70lb KB
1 x Three in One Box
Chalk
---
Athletes will bring their own:
Jumprope
Any other accessories needed for the events
SPECTATOR AND VENUE INFO
POWER HOUR 2017 will be held at CrossFit Mettle in San Antonio, TX.
There is NO CHARGE for spectators to come and cheer their friends on!