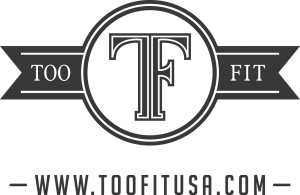 Trinity Competitions is extremely proud to announce our formal partnership with Too Fit, a Texas-based nutrition and supplement company.
Too Fit will be our Title Sponsor for Duality 2016 and The 2016 Alamo City Throwdown as well as a our "Recovery Happy Hours" that will take place in September 2016 and January 2017.
If you have not heard of Too Fit, well now you have! You will get a chance to speak with the owners personally at our events and they will be visiting many local Affiliates over the next 5-6 months.  Their products are of the highest quality, natural ingredients and have been taking over CrossFit Affiliates here in Texas. Just ask Bedlam CrossFit and CrossFit Aggieland about how great they are.
Read about their Pre-Workout, "Moxie" and their Post-Workout Protein, "Rally".
Get started on a Subscription Service and get your nutrition delivered monthly to your door.
Tell your Box Owner to get the whole gym set up.
THE TOO FIT GUARANTEE
You have our word that we will always deliver the purest, most effective products on the planet. We will never sacrifice quality for quantity. All of our products are intelligently crafted through utilizing the latest breakthroughs in science while combining time-tested, proven ingredients, superfoods, and herbs. Our products will always be free of banned substances, artificial coloring, artificial sweeteners, and unnecessary fillers.
See what's inside "RALLY" below.