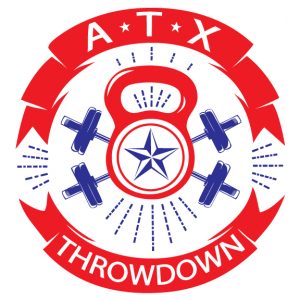 We are gearing up for the 2017 ATX Throwdown and we wanted to give you all updates on some changes we have implemented. The dates for registration are March 14th through May 16th and the competition will be held on Saturday, June 3rd at the Austin Convention Center.
Please register HERE after 7pm on Tuesday, March 14th.
---
TEAM REQUIREMENTS CHANGED
Scaled Teams may be comprised of Scaled and Intermediate athletes.
Rx Teams may be comprised of Intermediate and Rx athletes. 
No changed to Super Scaled Teams.
What this means is that Rx teams will be able to have 1 or 2 athletes on the team that would normally be defined as Intermediate due to lack of muscle ups, HSPU's, or brute strength. The workouts will still be challenging but we will not force all athletes to perform certain movements that could possibly stop the entire team from completing a workout.
We may still test max muscle ups/HSPU's, etc. for all team members but it will not be in such a way that the team cannot move on during the workout. For example, we may ask each of the team members to perform max muscle ups in 1 minute but we would not force each team member to do 15 to complete a workout.
To read about division requirements, click HERE. Please email all questions to info@trinitycompetitions.com
---
THE AFFILIATE CUP
The gym/affiliate that has the best combined placements for their Scaled and Rx teams will be awarded the "Affiliate Cup", an award for the gym as a whole.
Last year, RedSide CrossFit took it home as their Rx team won the event and their Scaled team placed 6th.
---
ONLY 1 ONLINE EVENT FOR RX ATHLETES
Teams and Individuals (Rx ONLY!) will complete 1 event prior to the competition. It will be a short strength event and it will be filmed and uploaded on YouTube/Vimeo for verification. For teams, we will have each team member complete their own lift and scores will be added up.
The workout will be announced 2 weeks before the event and will be due 2 days before the event. This score will count for the overall score of the competition as a separate event just like all the events on June 3rd.
---
3 PHASES OF REGISTRATION
Phase I Registration (MARCH 14th – APRIL 4th) will offer guaranteed spots, lower prices for all athletes, and a chance to win prizes such as a BoomBell by MadFitter, a Ready Made Gear jumprope, spectator tickets, and athlete discounts on future events. Teams will be $390.00 and Individuals will be $110.00.
Phase II Registration (APRIL 5th – APRIL 30th) will see a small increase in pricing with a chance to win spectator tickets and athlete discounts on future events. Teams will be $420.00 and Individuals will be $120.00.
Phase II Registration (MAY 1st – MAY 16th) will see another small increase in pricing with a chance to win absolutely nothing 😉 . Teams will be $440.00 and Individuals will be $130.00.
---
TEEN DIVISION ANNOUNCED! 
We are excited to host 16-17 year olds in both the individual male and female divisions for the ATX Throwdown.
---
3 FLOORS AND EVENT FINALS
We are currently planning on 3 event floors for all athletes and team/individual finals for the following divisions:
Team Scaled
Team Rx
Individual Rx
---
GENERAL SCHEDULE
We will most likely start with the first event at 8am and finish no later than 5pm. More updates in regards to the schedule in Mid May.
---
We look forward to seeing you all there. Please let us know if you have any questions by emailing info@trinitycompetitions.com