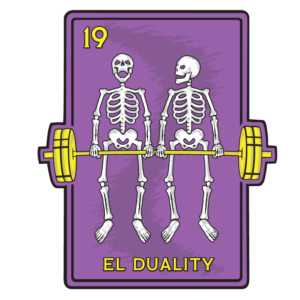 DUALITY 2019: CHANGES COMING!
As we gear up for Duality 2019, we wanted to inform you of all the changes we are making to create a better experience for the competitors.
DIVISION CHANGES
We are adding INDIVIDUAL DIVISIONS to compete on SUNDAY, September 29th. These divisions are:

SCALED, INTERMEDIATE, RX (Limited Spots) – $130 per athlete, no extra fees
MASTERS 35-60+ (EVERY 5 YEARS) – $130 per athlete, no extra fees
KIDS 5-17 ($95/athlete, no extra fees)

Athletes can compete in TEAM and INDIVIDUAL since they are on different days. We will create the programming for the events to be different using the same equipment. There is no discount for competing in both and our same refund policy exists.
We are REMOVING Team Masters Divisions from the competition. We just did not have enough registrations over the past few years to keep this division.
Everything else stays the same. Scaled, Intermediate, and Rx Teams compete on Saturday with Rx competing on Friday night and Super Scaled Teams competing on Sunday.
SANDBAGGING WILL BE REMOVED: AN ONLINE "SEPARATOR"
WILL BE ADDED FOR TEAMS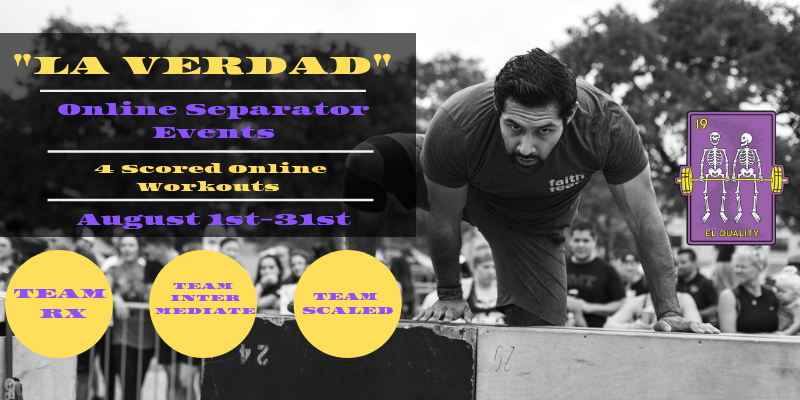 In the spirit of finding the best teams in their proper divisions we are now adding "LA VERDAD" (The Truth), a ranking and division separation system for the Scaled, Intermediate, and Rx teams. We are not doing this for individuals in 2019.
The Problem: In the past, athletes and teams would register for a division they were obviously "too good for". They would win and in reality, they should have been in the next division up.
The Solution: All potential Scaled, Intermediate, and Rx Teams will now register without entering a division. Once we sell out, we will not add any more teams. From here, we will require all teams to complete 4 online workouts in 4 weeks in August. We will announce all workouts at once and the teams will have 4 weeks to submit their scores. We will require video for 3 of the 4 events to ensure integrity. From here, the teams will be ranked and we will separate out the teams into Scaled, Intermediate, and Rx. (this will not be done for the Super Scaled division)
Prizes will be given out for "La Verdad". It is not an online qualifier, but more of an online separator which creates the divisions instead of the teams choosing their division. Please remember that teams must register and get in before we sell out to participate in Duality. The workouts are done individually and the team scores are added together.
There will not be a separate cost for this but we will adjust prices for the competition by $6.00 per athlete. Total cost will be $136 per athlete, no extra fees. Teams will pay for both athletes at the same time, After 1 month, pricing will go up by $10 per athlete.
Teams are encouraged to have a backup athlete who also completes La Verdad just in case one of the teammates backs out, gets injured, or cannot compete. This will be $15.00 and we will keep those scores ready. By 2 weeks before the event, if there is an athlete change we will substitute the back up athletes scores into the team score and adjust the team's ranking. We feel this is the fairest way to have the right teams in the right divisions and avoids a team adding a much better athlete while staying in the same division.
*THE FOLLOWING NUMBER OF TEAMS WILL MAKE UP DUALITY:
CO-ED:
TOP 20: RX
NEXT 40: INTERMEDIATE
LOWER 40: RX
MALE/MALE:
TOP 25: RX
NEXT 40: INTERMEDIATE
LOWER 35: RX
FEMALE/FEMALE:
TOP 10: RX
NEXT 20: INTERMEDIATE
LOWER 35: RX
*Based on 2018 attendance. Subject to slight adjustments.
We will add more information to this page as we can release it! Got questions? Email us at info@trinitycompetitions.com