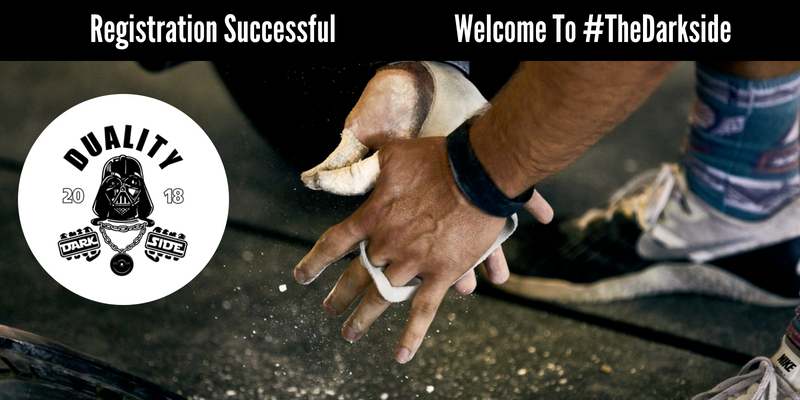 Your team is officially registered for Duality 2018. 
Welcome to the Dark Side.
We are working hard behind the scenes to make sure the competition goes smoothly and all the athletes have what they need to do their best! Please RSVP to the event on Facebook HERE and let us know you are coming!
Please email info@trinitycompetitions.com if you have any questions in the meantime! Our website is https://trinitycompetitions.com/duality/ and we are always available to answer your questions.
Please make note of the following:
You agreed to our refund policy HERE. Please ensure you understand this as we cannot make any exceptions to this.
Switching divisions is not guaranteed. Once we fill up a division, we are not able to place another team in that division.
We will be releasing Event 1 on August 15th. Event 2 will be released August 29th. The last 2 events will be released the week of Duality, on Monday September 24th.
We will release a Team Roster spreadsheet BEFORE we order shirts on August 15th that will contain the following information:

Team Name
Athlete Names
Athlete T-Shirt Sizes

This will allow teams to adjust their t-shirt order if needed.
All athletes will have the opportunity to customize their t-shirt with their last name on the back. This is optional and the cost is $10.00 for the custom last name to be placed on the shirt.
Teams may substitute athletes without letting us know but if t-shirt sizes need to be changed, we will ask teams to submit their change at a link provided in August!
Keep training, be kind to others, and stay healthy! We are stoked you are competing with us!
-The Trinity Competitions Team