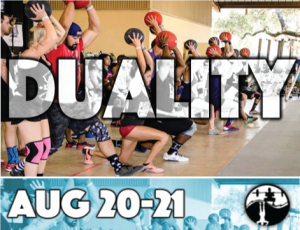 So you want to compete this summer? You want a fun event that is easy to sign up for and super fun? Well, we got what you need!
Duality is a 2 Person Fitness Competition held in San Antonio on August 20th-21st with 3 separate competitions throughout the weekend. The location of the competition is the San Antonio Shrine Pavilion. See our DUALITY PAGE HERE.
Athletes will also complete 3 online events that will count toward their total score for the competition. Read more HERE about the online events.
READ HERE ABOUT THE DIVISIONS!
READ HERE ABOUT OUR REFUND POLICY
---
2 CrossFit Games Announcers and The World's Best DJ!
Both Larry Moss and Dylan Malitsky will be emceeing Duality all weekend as a team just like they have done for a few years at Regionals and the Games. They will call the action on the floor all weekend and keep the crowd informed and entertained! DJ Diggy Dutch, 3rd place Red Bull 3Style Winner, will be bringing his high energy and dope beats pumping all weekend as well!
---
BIGGER PRIZES FOR RX WINNERS THIS YEAR!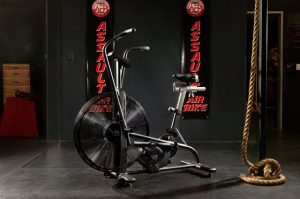 We are excited to announce ALL RX WINNERS are winning a brand new Assault Air Bike!
Yes, we will be awarding 6 brand new (in the box) Assault Bikes to the winners of Male/Male Rx, Female/Female Rx, and Co-Ed Rx Divisions!
---
SATURDAY DAY COMPETITION
Our first competition for the weekend will be held on Saturday during the day and we will host Scaled, Intermediate/35+, and Rx Divisions for Male/Male and Female/Female. This will run from approximately 8:30am until 4:30pm.
---
"NIGHT OPS"
Saturday night we will keep the party going with the Scaled, Intermediate/35+, and Rx Co-Ed teams. We will go from approximately 6:30pm until Midnight.
---
SUNDAY DAY COMPETITION
Sunday, we are hosting the M/M, F/F, and Co-Ed for Super Scaled and Masters Divisions! Our Masters Divisions are 40+ and for this competition, we do not have enough 45+ or 50+ attendance to make it's own division. All ages welcomed however! We will go from approximately 9:00am until 4:00pm.
---
VENDORS, GIVEAWAYS, AND A WHOLE LOT OF FOOD ALL WEEKEND!
We will have a lot of vendors offering some really cool stuff all weekend as well as giveaways throughout the competitions. We will also be serving brisket, chicken/beef fajitas, some great sides, FitAid, and plenty of Hill Country Spring Bottled Water!
---
GYM OWNERS COMPETE HALF OFF AND THE DATE FOR A PRICE INCREASE
If you own an Affiliate, you will use the following codes:
1 Affiliate Owner competing with their partner not an Affiliate Owner will use: QUARTER for 25% off
2 Affiliate Owners competing together will use : GYMOWNER for $115 off
Please use integrity with this code. We will be sure to verify that you are an Affiliate Owner as well. We will collect payment via PayPal or Square before the competition if you use the code and you are not an Affiliate Owner.
Price Increase will take place on July 7th. New price will be $125 per athlete.
---
That's about it! We will see you in August!
Email us at info@trinitycompetitions.com if you have questions!